General Information
Bringing and picking up your child:
A reliable person, age 18 and older, should be responsible for dropping off and picking up all children. The person bringing the child must enter the building with the child and sign him/her in. The arrival time and the person's first and last names (readable) must be used on the sign in/out sheet. It is also important for the person bringing children to stay in the classroom until the child is with his/her teacher. Pick-up should occur in the same manner.
Children must be signed in and out daily using the Brighwheel App. You can do this from your phone or the Kiosk in the Commons area or the tablet in your child's room. When you sign your child in, you are turning over legal responsibility to Christian Wee Learn Center. When you sign your child out, you are relieving us of that responsibility. Your child will be allowed to leave only with persons you have listed on the enrollment form as authorized for pick-up. Anyone we do not know will be asked to present photo identification. Please remember that new and/or substitute teachers are required to ask for identification from everyone.
Toileting and Diapering
Diapers worn by children should be able to contain urine and stool and minimize fecal contamination of children, teachers, environmental surfaces, and objects in the child care setting. Only disposable diapers with absorbent material (e.g., polymers) may be used unless the child has a medical reason that does not permit their use (such as allergic reactions). If cloth diapers are used, there should be an absorbent inner lining completely contained within an outer covering made of waterproof material that prevents the escape of feces and urine. No rinsing or dumping of the contents of cloth diapers should be performed at the child care facility. Soiled cloth diapers will be completely wrapped in a non-permeable material, stored in a location inaccessible to children, and given directly to the parent upon the child's departure daily. (Taken from Caring for Our Children, National Health and Safety Performance Standards: Guidelines for Out-ofHome Child Care Programs and the American Academy of Pediatrics)
*Due to time and sanitary purposes, unless a medical condition is present that requires your child to use cloth diapers we will not allow cloth diapers to be used in the center.
Food
Christian Wee Learn Center serves breakfast, lunch, and an afternoon snack. Our meals and snacks follow United States Department of Agriculture (USDA) Meal Guidelines to ensure that every child receives nutritious meals/snacks Lunch must include fluid milk, two fruits/veggies, one meat, and one bread. If your child has a medical reason they cannot eat a food that we are serving you will need to bring in a substitute item that meets the USDA Meal Guidelines. Without a medical condition and doctor's note no outside food will be allowed to be brought into the center.
Toys
We have lots of toys! Please do not allow your child to bring a toy from home unless it is "Toy Day" in your classroom. If a toy is brought on a day other than Toy Day, it will be kept in your child's cubby until he/she is picked up. Christian Wee Learn is not responsible for lost or broken toys.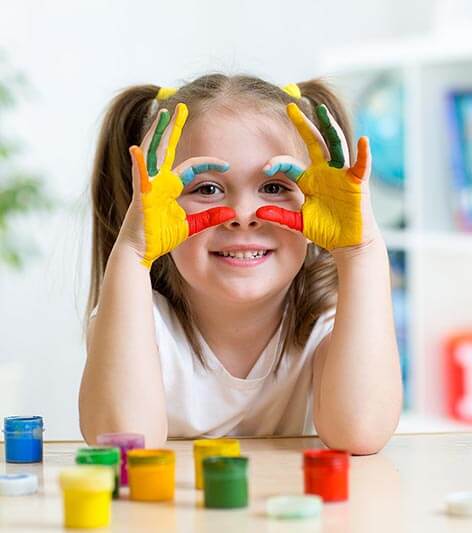 Clothes
Washable play clothes are the most suitable because the children are going to come home dirty sometimes. A change of underwear, socks, and outer garments should be kept in your child's classroom in case he/she has an accident and needs to change clothing. All items should be marked with a permanent marker to help us keep up with what belongs to whom! During cooler weather, please send a cap or some type head covering. We will go outside for at least 10 minutes daily unless it is bitterly cold or raining. This activity is a Department of Human Services (DHS) requirement that we must abide by. If your child has a medical reason to be kept in from outside you will need to provide a doctor's note for your child to stay inside. Please be advised we do not always have additional staff to care for those children who request to stay indoors so your child may have to sit in the office during their scheduled outside time.
Naptime
All children must have something to lie on – it can be a crib sheet, blanket, or towel. All children must have something to cover up with, usually their favorite blanket. Please bring 2 blankets on Mondays and take them home to launder on Fridays.
Miscellaneous
If your child is enrolled in one of our infant/toddler rooms, you will need to discuss schedules, formula, baby foods, etc. with the lead teacher. She will also talk to you about bringing diapers, wipes, etc. As our children transition to older groups, you will also talk about pacifiers, sippy cups, and potty training.
Holidays:
Christian Wee Learn Center is closed on the following holidays:
New Year's Day
Good Friday
Memorial Day
Independence Day
Labor Day
Thanksgiving Day and the day after
Christmas Eve
Christmas Day and the day after
When a holiday falls on a Saturday, we will close on Friday. When a holiday falls on a Sunday, we will close on Monday. If our schedule deviates from this in any way, we will notify parents several weeks in advance by postings inside the center.
Snow Days
As a general rule, Christian Wee Learn Center closes when the University of TN at Martin (UTM) closes for inclement weather. In the event that we are closing due to inclement weather, we will notify WCMT radio (1410 AM, 101.7 FM) and the local television stations in Paducah (channel 6) and Jackson (channel 7).
Drop-In's
A limited number of school-age children through age 12 may be accepted on a drop-in basis when public schools are closed and Christian Wee Care Center is open. Parents should make arrangements for drop-in ahead of time.
Grievances
Any problems should be discussed with your child's teacher and/or the center Director. If a mutual agreement is not reached, a decision will be made at the discretion of the Director in consultation with the FBC Associate Minister of Education and/or the FBC Early Education Committee. All children are accepted on a two week trial period and if for any reason a child has not adjusted or the parent refuses to follow policy, withdrawal may be necessary.
Child Abuse and Neglect
We are mandated by law to report suspected child abuse and/or neglect to the proper authorities (Department of Children's Services) in accordance with Tennessee's Child Abuse and Neglect Reporting Act.
Anti-Discrimination Policy
As a DHS licensed child care agency, Christian Wee Learn Center will not discriminate on the basis of race, creed, color, national origin.